How much food does your household waste each year?
Whenever we throw away food, we're not only throwing out our hard-earned cash, we're driving up the cost of all food which literally takes food from the mouths of the hungry. 
 
On top of that, the world recycles less than 9% of plastic it creates - every single piece of plastic or silicone ever made still exists on the planet today. We believe the only sustainable way out of our polluted mess is through compostable solutions.
Enter: The Swag
The Swag is a patented multi-layered design of 100% unbleached, unseeded cotton - each layer playing a role in keeping produce fresher for much longer.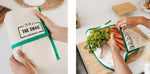 1. Protect
The Swag protects your fruit & veggies by preserving the water within the middle layer from drying out too quickly.

2. Hydrate
The thick, absorbent middle layer holds the bulk of the moisture. It draws the water away from the fresh produce, yet allows it to hydrate as needed.

3. Breathe
The multi-layer design provides a dryer protection barrier however as all layers are permeable, they allow your fruit & veggies to breathe & stay fresher for longer.